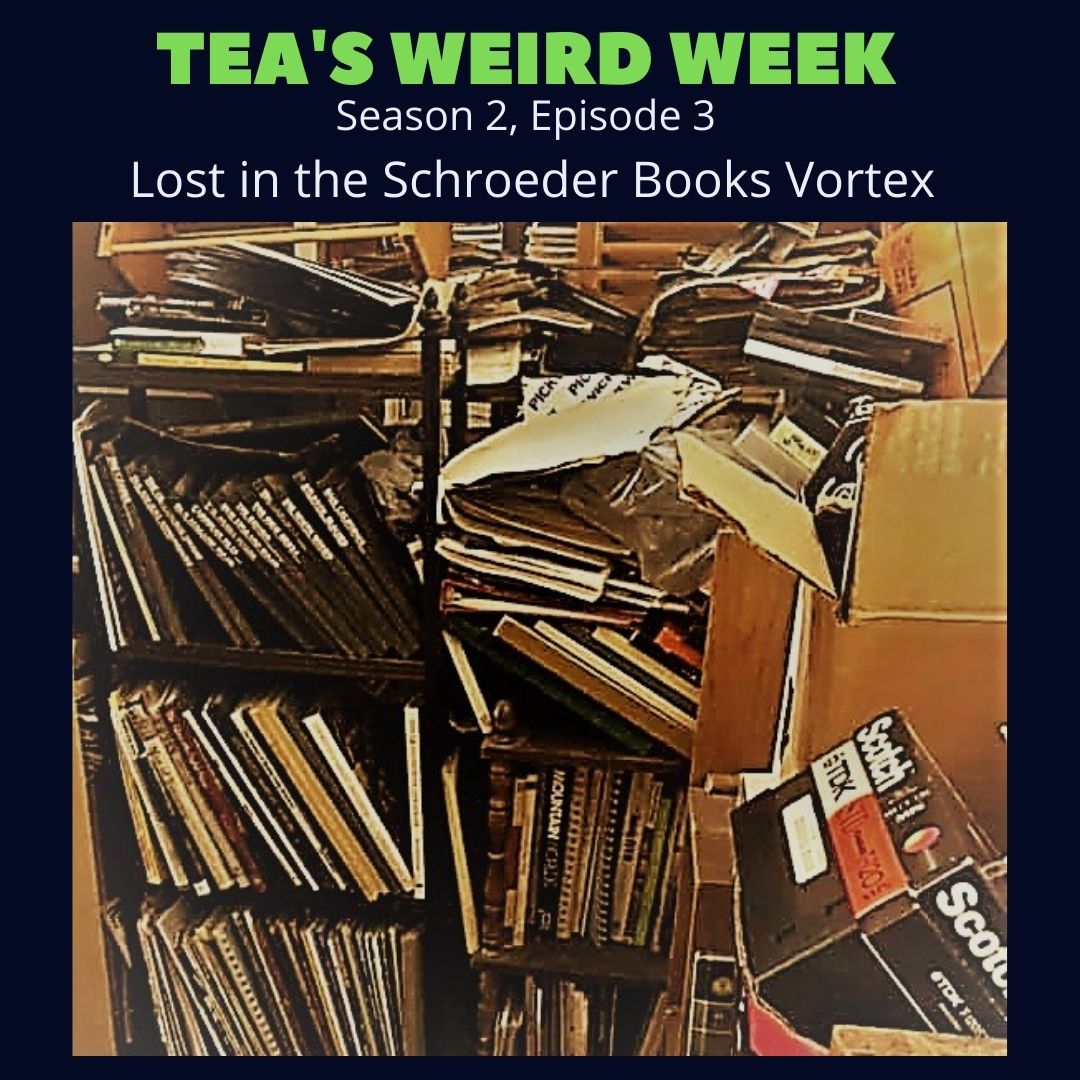 Schroeder Used Books and Music was an overwhelming cluttered and strange used bookstore run by an eccentric woman named Alma. It was shuttered in 2015 for fire code violations. Recently a new owner opened the store for a sale to try the overwhelming task of clearing the store out so he can rent to new tenants. Tea and Miss Information read some Yelp reviews of the store to give context, then Tea reports from the scene of the sale and books he found, plus our friend Alex C-Hayes reveals the ultimate rare item found in the store. Hint: it's one of the horcruxes of weird Milwaukee. 
In the news segment, Tea and Heidi talk about upcoming events they'll be at, the Rod of Iron Ministries, a sovereign citizen on a Dukes of Hazzard-style police chase, Pokémon (Got to shoot your ass), Unusual Mortality Events of whales, the acoustic sounds of John Hinckley Jr. and more. 
Plus Miss Information has new trivia, original music from Dan Hintz and Android138, and we close out with a brand new conspiracy-themed track from Xposed 4heads, "Kink in the System."
See some pictures and find a list of Milwaukee used bookstores still open in this week's column: Tea's Weird Week: Lost in the Schroeder Books Vortex | (teakrulos.com) 
Show notes
-We referenced "Quirky Schroeder Books Stacks Up," Molly Snyder, OnMilwaukee.com
-"Gun Church That Worships With AR-15s Bought a 40-acre Compound in Texas for Its 'Patriots,'" Tess Owen, Vice.com
-"Campground owner in trouble with law again after police chase," FOX 11 News
-Tea was trying to think of this article on Moorish sovereign citizens: "The Extremists Knocking on Doors and Claiming People's Homes," Kelly Weill, Daily Beast
-Here's a recent article on a whale Unusual Mortality Event: "A dozen dead whales have washed ashore in the San Francisco Bay Area," Susanne Rust, phys.org
-John Hinckley Jr.'s YouTube page